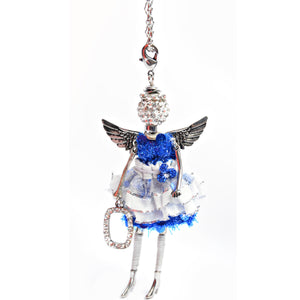 UNIQUE Angel Necklace.
handcrafted with Swarovski elements
By Jacqueline Kent
Included:
Necklace Chain, 
Velvet bag, Key Ring and Card
14 1/2 L x 11 1/2 W x 8.87 H
The magnificent and holy Sapphire, in all its celestial hues, is a stone of wisdom and royalty of prophecy and Divine favor. It is forever associated with sacred things and considered the gem of gems, a jewel steeped in the history and lore of nearly every religion.