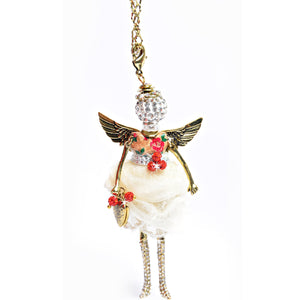 UNIQUE Angel Necklace.
handcrafted with Swarovski elements
By Jacqueline Kent
Included:
Necklace Chain, 
Velvet bag, Key Ring and Card
14 1/2 L x 11 1/2 W x 8.87 H
The Ruby stone is an excellent aid to assist you with recharging your energy levels, and it may stimulate your mind to be more positive and self-assured. It is well known as a deep red gemstone and crystal with a striking color that is analogous of its energy, which is very effective for encouraging vitality, sensuality and sexual energy.