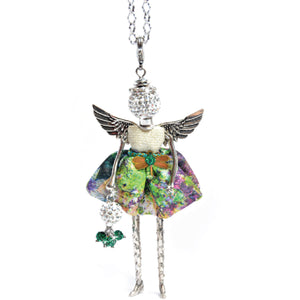 UNIQUE Angel Necklace.
handcrafted with Swarovski elements
By Jacqueline Kent
Included:
Necklace Chain, 
Velvet bag, Key Ring and Card
14 1/2 L x 11 1/2 W x 8.87 H
Emerald, a stone of aspiration and inspiration, Emerald opens the heart, clearing and strengthening one's connection to Divine Love, and sustaining one in their spiritual journey. It encourages one to live and act from the heart, offering unconditional love and compassion in daily life and relationships, and to be open to receive love from others.